Supermint's Art Commissions
Welcome! This is a temporary price sheet while my main site is under construction.
If you are looking for something that isn't listed below, feel free to contact me.
All prices are in USD.
My TOS
---
Telegram stickers, reference sheets and doodle pages are back!

Use the buttons to jump to the relevant sections, or keep scrolling to view all options.
---
Animated Pixel Icons
$45

Pixel headshot with default blinking or winking animation. Ask for other animations.
Comes with 100x100px original + 500x500 display version.
---
Rough Sketches
$25 | +75% per extra character

Rough fullbody drawings made to be more similar to my personal art style. Prioritizes expressiveness over polish.
---
Flat Color Drawings
$20 - Halfbody
$40 - Fullbody
+75% per extra character

Flat color art with cleaner lines than a sketch.
---
Portraits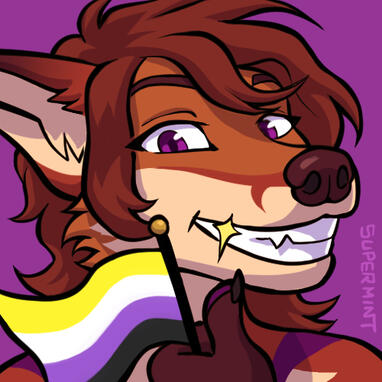 $40 | +75% per extra character
Backgrounds $10-50 depending on complexity

Shaded, cuts off at the chest
---
3/4 Body Commissions
$55 | +75% per extra character
Backgrounds $10-50 depending on complexity

Fully shaded art that cuts off just above knees.
---
Fullbody Commissions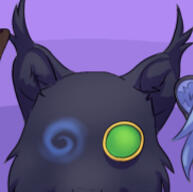 $75 | +75% per extra character
Backgrounds $10-50 depending on complexity

Fully shaded portraits with the entire body in frame, with the character as the main focus. For more emphasis on the background, see full illustrations.
---
Full Illustration Commissions
$135 | +30% per extra character

Fully rendered illustrations with painted natural landscape backgrounds (human-made background elements will cost extra).
Character can be bigger or smaller in the scene depending on what sort of vibe you prefer.
For primary emphasis on the character, see fullbody commissions.
---
Reference Sheets
$70 - basic
Included: Front/back fullbody views (standard A-pose), name, basic information

Additional elements (a la carte)
You may also add any of the following items for an additional charge.

Note: Items marked as "view" are for separate renditions of said item, not applicable if your character simply has markings/accessories/etc.

Custom poses* – $10
Additional halfbodies - $20 ea
Additional fullbodies – $35 ea
Additional headshots – $12 ea
Eyes view – $5
Mouth/tongue view – $5
Paw(s) view – $8
Tattoos/markings view – Price varies
Accessories view – Price varies
Detailed bio (paragraph) – Free
Palette – $1

*Select if any of the fullbody/halfbody views will be something other than the standard pose.

Character design
I also offer from-scratch character design for an additional fee: $25 for moderate complexity, or $40 for high complexity. I do not charge for simple designs (such as "blue fox", or things of similar detail level).
Further customization options and additional elements not listed above are available – just specify on the order form!
---
Doodle Pages
$25/hr, $25 deposit - Small (5 doodles)
$25/hr, $100 deposit - Medium (10-15 doodles)
$25/hr, $150 deposit - Large (20-25 doodles)

I will fill a page with a variety of drawings of the character(s), ranging from headshots to fullbodies. Despite the name, the "doodles" are fully lined and are not simply sketches.
The number of characters is up to you. It can be of one, two, or all different characters if you wish. In scenes on the page that involve multiple characters, each character within that scene will count towards the total number of doodles. Doodles will be in flat colors.

Payment Process
After your order is received, an invoice will be sent for an initial deposit (see price listing).
Once the deposit has been paid, I will start a timer and begin work on the doodle page. I will only advance the timer when I am actively working (no breaks or pauses included). Progress WIPs will be provided along the way, and I will keep you updated on the timer.
When the doodle page is completed, you will be provided with a thumbnail preview and a new invoice will be sent according to the total work time, minus the initial deposit.
The full size image will be made available once the invoice is paid in full.

Rough worktime estimates
Small (1-3h) | Medium (4-8h) | Large (6-12h)
Ballpark estimates only; the higher end of the ranges are for complex characters/prompts.
---
Telegram Stickers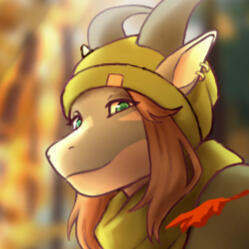 $12 per sticker - flat black eyes
$15 per sticker - full detail eyes

These are 512×512 px flat color digital stickers for use with the instant messaging application, Telegram. Expressions and poses are specified by the client.
There are two styles available for the eyes, you can have one or both in the same pack. Click the button below for full pack examples.
My Commission Terms
* Payment in full is required upfront.
Complex character designs and/or props or objects may incur an extra fee.
* Once started, the commission is non-refundable (unless I cannot complete it for personal reasons).
* Up to 3 rounds of revisions are included in the initial price (5 rounds for large commissions like full illustrations). Any further revisions will cost $10 for minor and up to $50 for major. Mistakes on my end do not count towards your revisions.
* I reserve the rights to the final artwork and any WIPs.
* Commercial (for profit) use of commissioned content is prohibited.
* Unauthorized artists may not alter the commissioned content in any way. This includes editing, drawing over, or using parts of my art in their own work without my permission. If you need an edit after the commission is completed, please ask me instead of going to another artist.
* Do not use my art in AI art generators, or for any related purposes.Please ask if you have any questions.